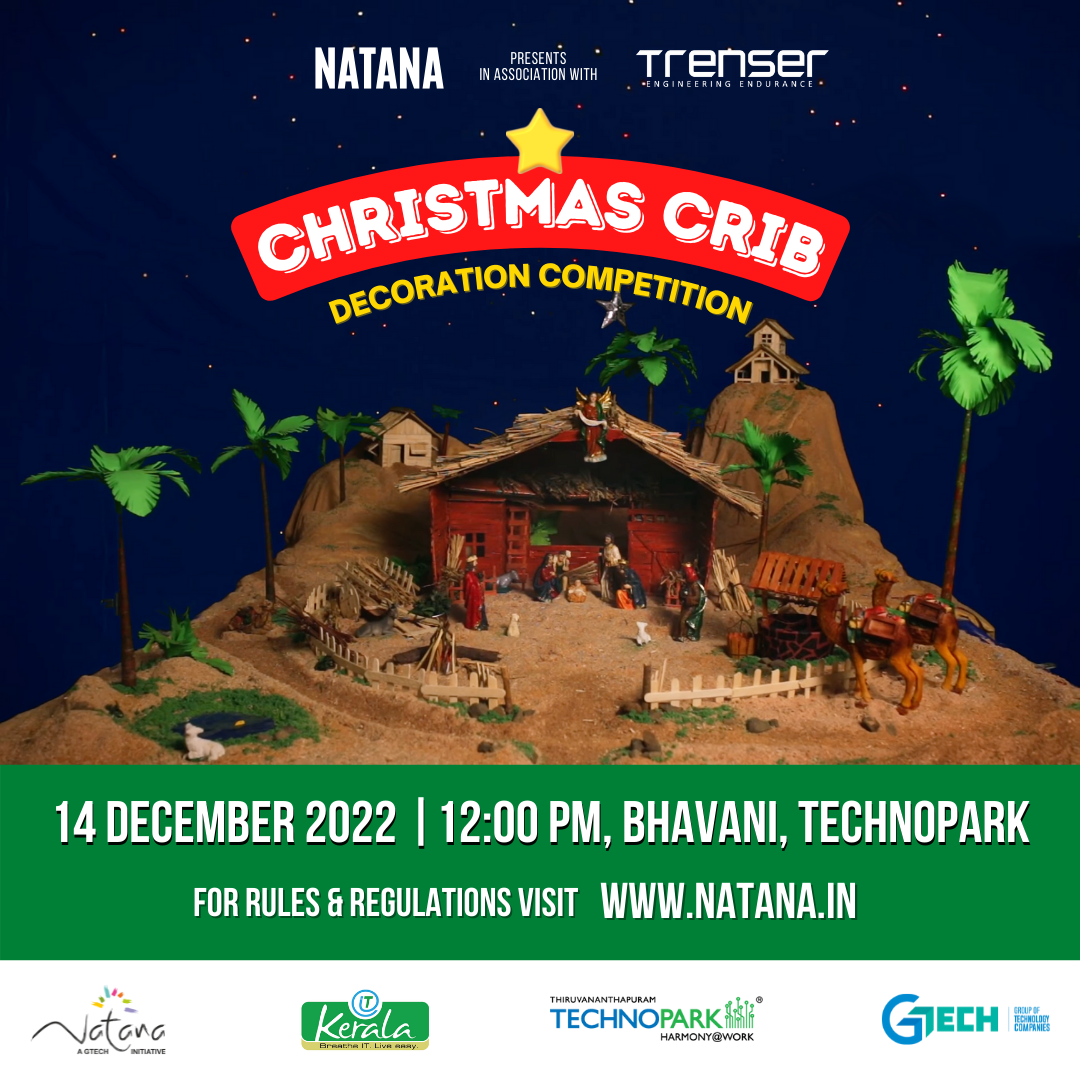 Christmas Crib Decoration Competition - Rules and Regulations
Date: 14 December 2022
Time: 01.00 pm to 04.00 pm
Venue: Bhavani Atrium
The competition is open to all the companies in Technopark.
Registration should be done on or before 13th December 2022, 8 PM.
An organization can register only one team.
A team can have a maximum of 10 participants.
Registration Fee of 500 Rs shall be paid through Google pay to Anjana Thomas (9745607792)
During online registration, the details of the person given will be deemed as that of the team captain.
The team captain should confirm the names of the participants before 13th December 2022, 8 PM. All participants are requested to carry their employee ID's during the competition. Once the event has started swapping of participants is NOT allowed.
NATANA team will mark a space of 10 feet X 10 feet for each team.
The theme, design, and shape of the CRIB is the choice of each team, however, the size should not exceed more than 10 feet X 10 feet.
The competition starts at 01:00 PM. Each team will get 4.00 hours to design and complete the Xmas Crib.
Decorations and associated art works should be preferably handmade and original.
Assessment will be made on the creative ideas, Innovation, Originality, the use of different kind of recycled and eco-friendly materials, different mode of representation and neatness.
The crib should include Baby Jesus, Mother Mary, St. Joseph, an angel, 3 Kings and Star and other related animals.
Usage of explosive items, fire etc is prohibited.
The teams are expected to clean the surroundings once the crib decoration is complete and get the crib ready for judgment.
Maximum of two members from the team can explain the theme and respond to the queries of the judges. There are no language constraints.
No dress code to be followed for the event. It is the choice of each team and is not a judging criterion.
Judgment will start from 04:00 pm onwards, any team requiring additional time will attract a penalty of -5 points for a 5-minute inclusive window.
A team will be disqualified for violation of above rules OR for any misbehavior towards the audience/ other teams/judging committee/organizing committee.
The competition serves to bring together the Technopark community as part of the Xmas celebrations. While we perfectly empathize with the competitive spirit, we expect participants to accept the judge's decision is final and taken in good faith.
Natana reserves the right to interpret the rules of the competition as appropriate.
Any disputes regarding the judgement should come to NATANA only from the respective company HR/management. 
Contact Person: 
Please get in touch with Eustine Thomas (+91 9633111612) or Anjana Thomas (+91 9745607792) for any clarifications regarding Christmas Crib Decoration Competition.